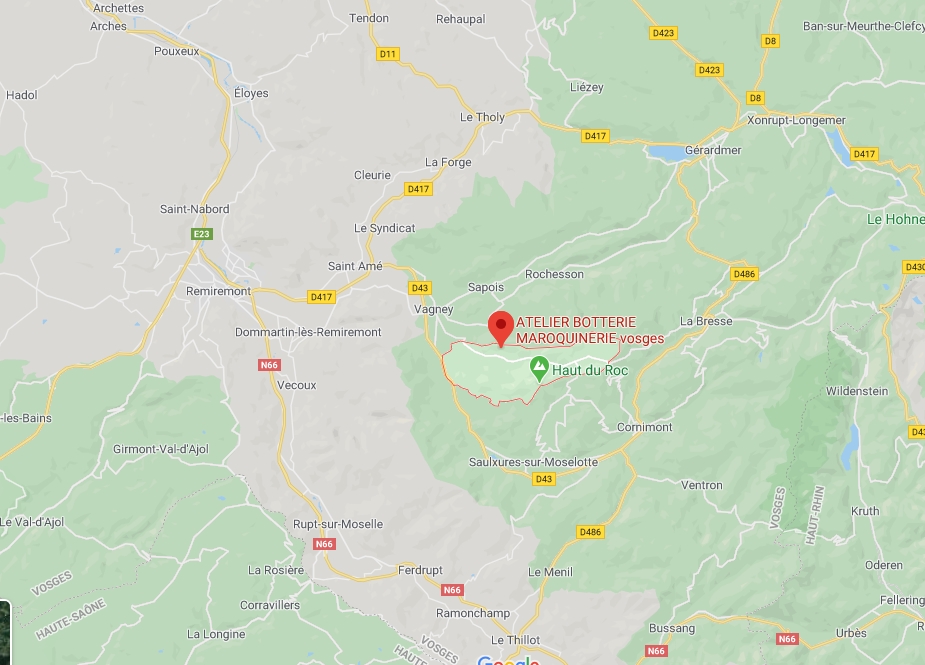 Our workshop is located in the east of France, (2 hours 45 minutes from Paris by TGV.) In the Hautes-Vosges in a magnificent setting on the forest.
the adress: 94 impasse des fougères, 88120 Basse sur le rupt
phone:0662580921 email:klairwithak@gmail.com
L'adresse: ATELIER KLAIR CUIR VOSGES
BOTTERIE-MAROQUINERIE
94 impasse des fougères, 88120 Basse sur le Rupt
tél: 06.62.58.09.21
email: klairwithak@gmail.com
you can visit the workshop by appointment, and buy at the workshop-showroom there also.
All the leathers are from France.
 Since 2009 our purchasing policy has focused more on the reuse of materials; our goat, calf and cowhide leathers come mainly from wholesalers who "recycle" the leather from the haute couture workshops in Paris.The lambs'leathers come from the BODIN-JOYEUX Tannery. Textiles such as tweeds, vintage ties come from private cabinets. We pay special attention to the choice of raw material. 
All the news from the workshop can be seen on the blog. 

anda new ephemere-shop in REMIREMONT 88200,15 place de LATTRE DE TASSIGNY
Notre atelier est situé à l'EST de la France, (à 2h 45 de Paris en TGV.) dans les Hautes-Vosges dans un décor magnifique à flan de coteaux.
Vous pouvez visiter l'atelier sur rendez-vous, et acheter au showroom de l'atelier.
Tous nos cuirs sont achetés en France.
Depuis 2009 notre politique d'achat s'est orientée davantage sur de la réutilisation de matières ; nos cuirs de chèvres, de veaux et de vachettes viennent principalement de grossistes qui « recyclent » le cuir provenant des ateliers hautes coutures de Paris.
Les cuirs d'agneaux viennent de la Tannerie BODIN-JOYEUX.
Les textiles tel que les tweeds, les cravates vintages proviennent d'armoires privées .Nous mettons une attention toute particulière sur le choix de la matière première.
Toutes les actualités de l'atelier sont à voir sur le blog.(www.chaussures-klair.over-blog.com)
Une boutique éphémère est actuellement et jusqu'à Noel 2020, au 15 place de LATTRE DE TASSIGNY, 88200 REMIREMONT
(boutique collective de made in Vosges)(avec le drap français et je vois la vie en Vosges et ARES & VOUS)